Regular price
Sale price
$29.99 USD
Unit price
per
Holiday Sale
Sold out
Get fit & gain a competitive advantage in lacrosse or any sport requiring speed, quickness of feet & alertness.  A perfect way to start your training sessions off as it helps you to get focused and develop a stronger brain to muscle connection.

Video
Features
EASY TO USE

 

: The 12 Pre-spaced fixed rungs allow you to set the ladder up in seconds with optimal spacing and not have to spend time setting each plastic rung every time you use it or hit it while training like most ladders on the market.
TRAIN YOURSELF WITH OUR PRO LADDER DRILLS CHART AND VIDEOS

 

: Designed by elevate pro athletes and coaches to make sure you're getting the most out of your training sessions. Double sided drill chart contains QR code to scan matching training clips.
IMPROVE YOUR MIND BODY COORDINATION

 : The Elevate speed ladder is perfect for all ages and levels to strengthen core joints to improve balance & mobility, aid better movement & prevent injury. It also engages both mind & body coordination as you learn to focus on every move.

NEW DESIGN CARRY BAG : Built with an extra compartment to hold the ladders ground stakes so they don't get lost and are easy to find.
Shipping & Returns

• All orders placed before 12pm PST will ship out the same business day and will arrive within 3-5 business days. 

• Next day air and 2 day air shipping is available at checkout

• 90 day money back guarantee on all orders. 

• 1 year warranty on all parts.
1 Year Warranty

We stand behind the quality of our products. We are pleased to offer a one-year warranty on all items purchased from us.

Your satisfaction is our priority, and we're committed to providing you with products that meet our high-quality standards.
View full details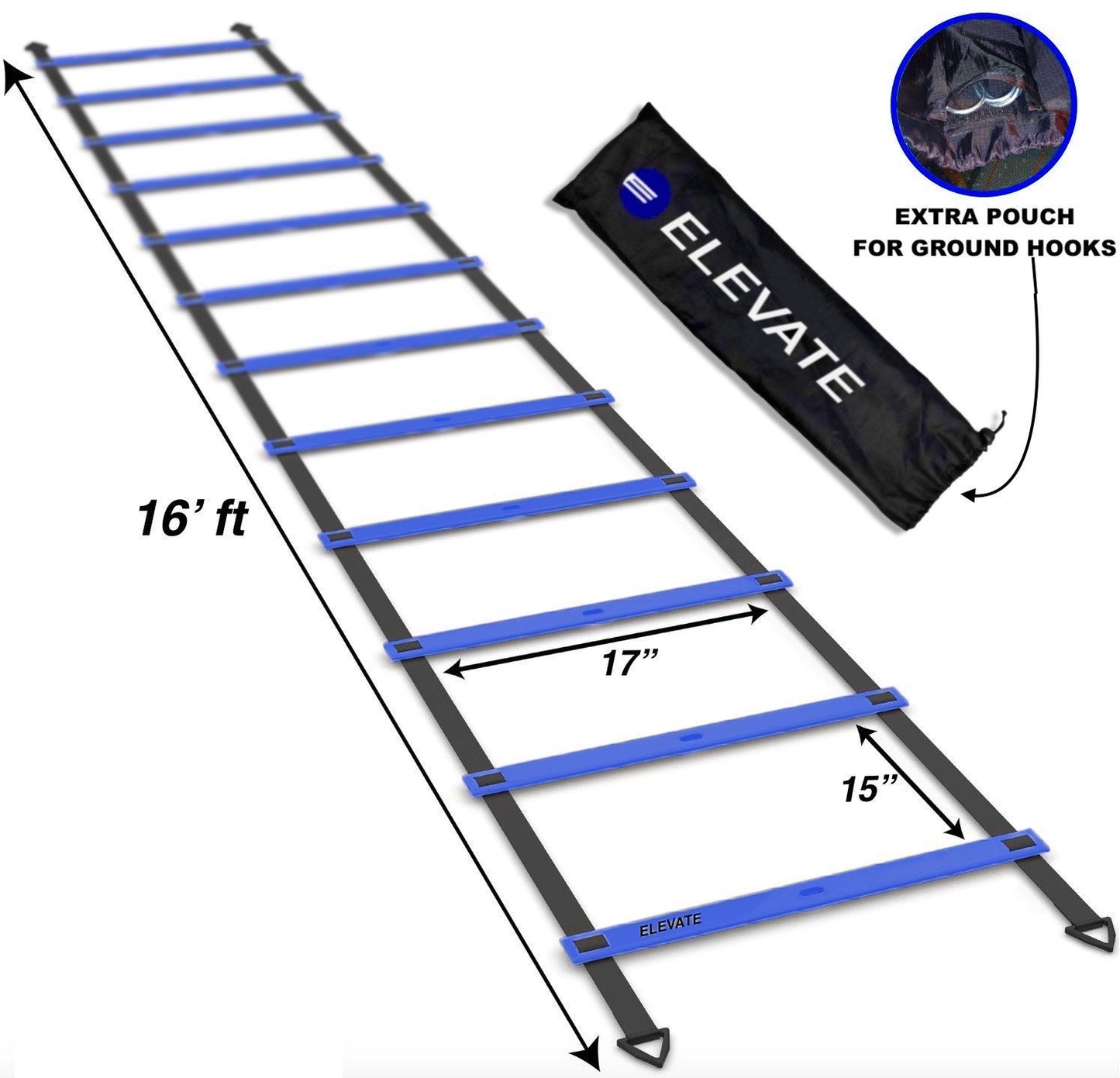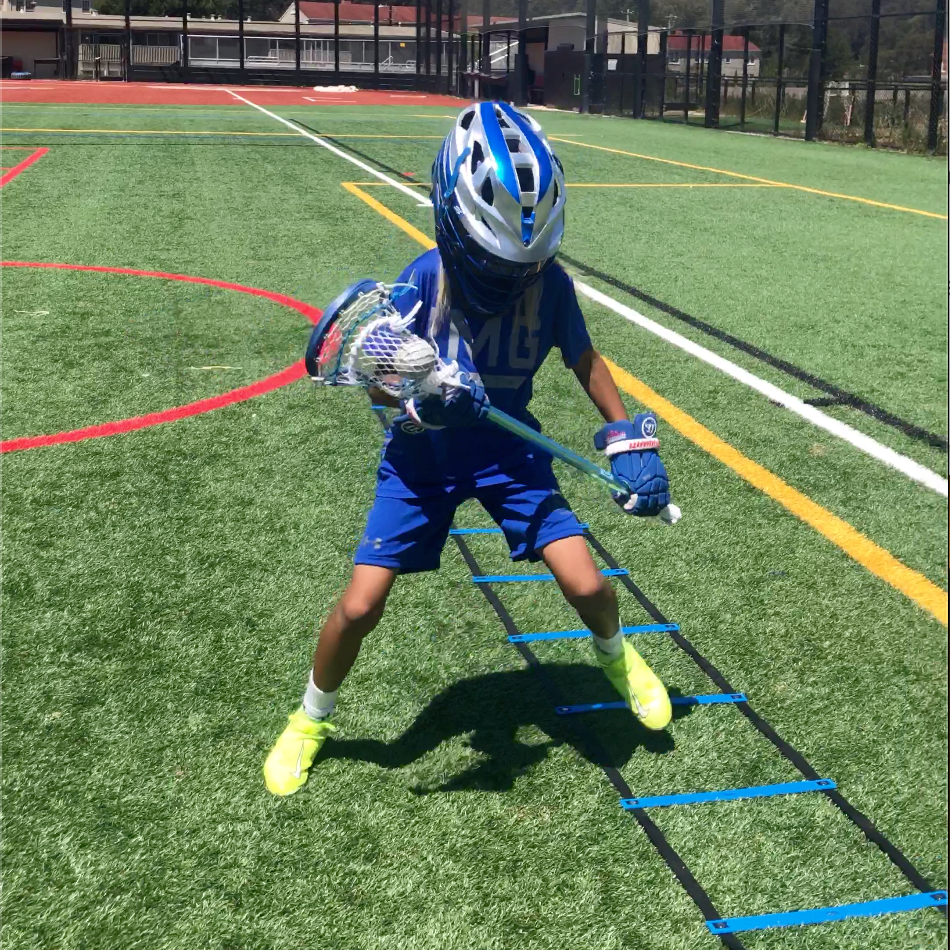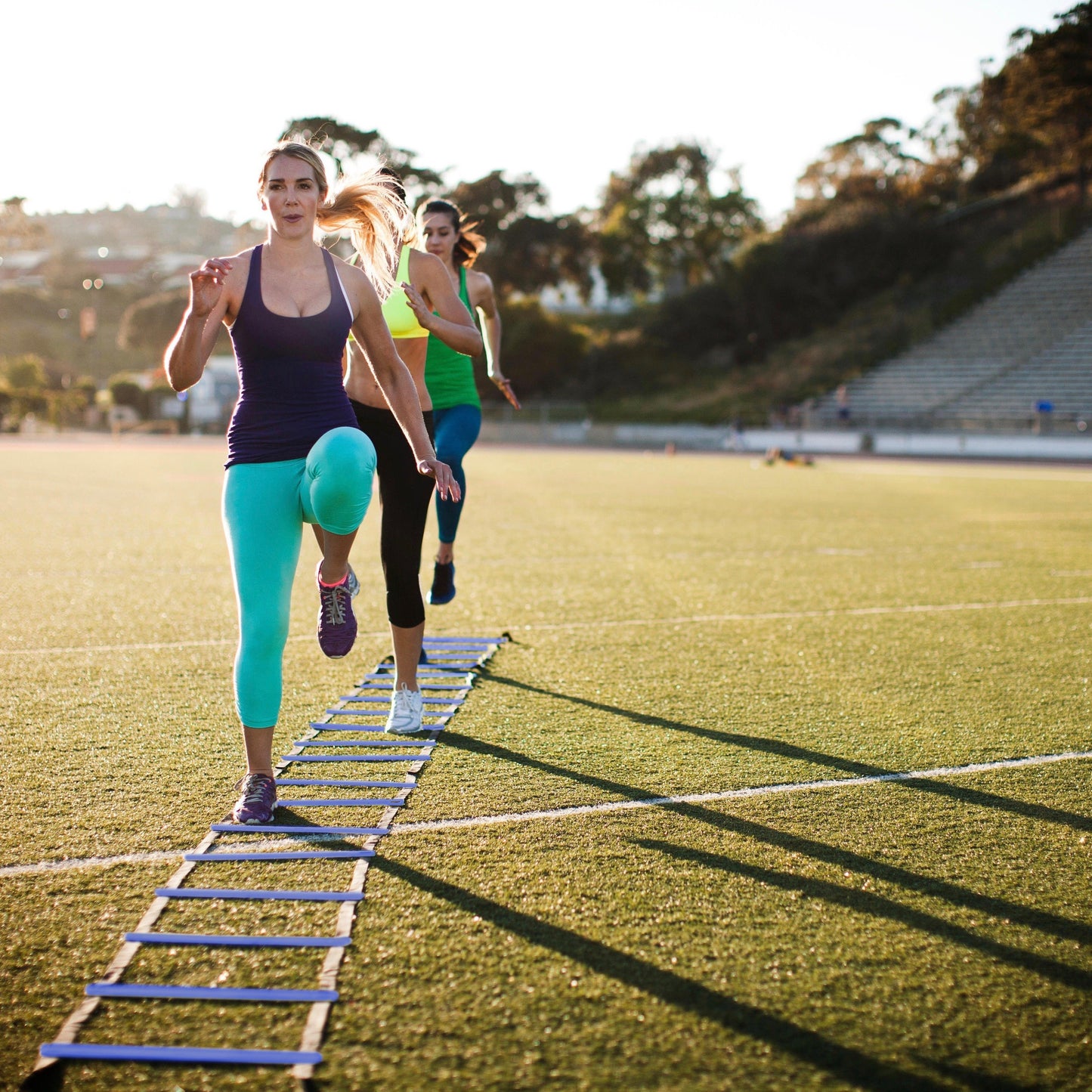 Excellent Quality
I got this ladder for my training sessions and it is great you can tell right away it was made with quality material that isn't going to break. I'm a stickler for details and this agility ladder really pays attention to every little thing from the fixed rungs that make it so easy to use all the way to smallest detail on the box. I recommend this ladder to all of the people in my practices as it's so easy to use but also comes with a great drill chart to help teach.
Tim,
Thank you for purchasing our agility ladder, were so glad you're enjoying it for you're classes along with our training videos and drill chart that we put in there. Feel free to reach out of you ever have any questions
Awesome Agility Ladder
This ladder is perfect for turf/hard surfaces or grass surfaces as it comes with ground hooks to keep it in place. The elevate carry bag also comes with a small separate pocket that holds the ground hooks so you'll never lose them which I've never had on any of my previous agility ladder bags! The bag is double the size of the ladder which makes it very easy to take the ladder in an out. You can also use it for additional items or even put two ladders in one bag if you're using with a team. The rungs are pre set so they don't move when accidentally kicked which makes it much easier to lay out when you don't have to fix the rungs like other ladders.
Thanks for your review please reach out if any questions come up!
Amazing!!!
Excellent product and very durable, Just roll it out and it's ready to use, unlike the adjustable types which keep shifting. The attention to detail on the carry bag is also amazing, they have reinforced seams so the bag doesn't rip and the bag is big enough so the ladder easily slides in and out.
Thank you so much for your review!
We are so glad that you're enjoying our agility ladder and find it very durable. .
quick setup and takedown. amazing product
If your an athlete and looking for a speed ladder this is the one to get. It doesn't tangle and takes almost no time to lay out and put away due to the ladder being attached to the straps so it doesn't slide there is no wasting time just set up, work out, pack and done. I've been using ladders for 10 years and this ones the sturdiest/best quality I've come across so far. I'm going to buy a couple more for my siblings who are also athletes.
<p>Thank you so much for your review!
<br>We're so happy that our agility ladder was able to help you train more effectively with no wasted time setting it up or adjusting due to the fixed rungs. We also think that our ladder is one of the best quality ladders around, I'm glad you agree! When you buy a couple more agility ladders for your siblings we're here to help.</p>
- Tyler Simmons
Elevate President & Founder
Highly Recommend
I would definitely recommend. I started using this ladder as part of my fitness routine and it's very durable. I'm new to using agility ladders so I hit the ladder frequently and since the rungs are sewn in I never have to reset it, which is a problem I read about with other ladders. Very easy product to use/setup and packaging was awesome you can tell they take pride and really care about their products.
<p>Thank you so much for your review!
<br>We love that you started to incorporate agility ladders into your fitness routine and found our agility ladder very durable and easy to use. Keep up the training and if you ever need more agility ladders in the future we're here to help.</p>
- Tyler Simmons
Elevate President & Founder